BISHOP LOUIS LARAVOIRE MORROW - OUR FOUNDER
24th December 1892 to 31St August 1987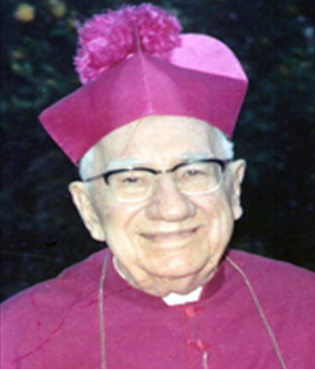 Most Reverend Louis LaRavoire Morrow, popularly known as "The Smiling Bishop" of Krishnagar, was one of the rare persons who dedicated his life selflessly to the betterment of humanity. He was the Bishop of Krishnagar, from 1939 to 1969. His herculean efforts, patience, foresight, selfless love, wisdom, and commitment as a shepherd and writer are noteworthy and have won him a renowned place in India and abroad.
Louis L.R. Morrow was born of an Ecumenical marriage on 24th December, 1892, at Weatherford, Texas, USA. His father Joseph LaRavoire was a French Catholic. His mother, Isabel Morrow, American born, was of Irish heritage, and a staunch New Jersey Episcopalian. They had three lovely children, Frank, Louis and Margarita. In 1921, "Luisito" was ordained priest in Puebla, Mexico. Thus began his glorious career of service. On 29thOctober, 1939, he was consecrated Bishop of Krishnagar, by Pope Pius XII, at St. Peter's Basilica in Rome. His coat of arms bore the inscription, "To Jesus through Mary", as from an early age he was devoted to our Blessed Mother.
Upon his arrival in Krishnagar on 25th October 1940 the literacy rate which was 4.5% rose almost to 100% by the time of his retirement in 1969. He set his heart on the formation of a solid Christian community educated and well-mannered. To realize this vision, his first and foremost endeavour was to have all the children attend school. Therefore he purchased land for expansion, constructed buildings, and equipped well the mechanical workshops, the carpentry and the industrial centre. Being a priest, educator and lover of children, he was interested in the whole person. The existing schools of the mission in Krishnagar were the Don Bosco School for boys and the Holy Family School for girls, the technical school well-equipped with modern machinery developed and flourished from this time onwards. The High School boys' band was equipped with a full accompaniment of instruments.
The first of the series that afflicted him and his mission for the next seven years was the Second World War that was on. British authorities in India decreed that all Italians be interned at Dehra Dun, north of Delhi. At once he swung into action. He told the local British authorities that they could cut off his right arm if they found one of his Italian priests doing anything detrimental to the war effort. He hurried off a telegram to the Governor of Bengal in Kolkata and another to the Viceroy in New Delhi. In desperation he sent a cable to her Majesty the Queen of England, at Buckingham Palace. The day priests were to start on their trip to the internment camp, the Bishop got a forty-eight hour reprieve. Then followed a letter from Conrad Smith, then Home Minister of the Government of India, that because of his "splendid work," the British had decided to let the Bishop keep his Italians in Krishnagar. It was the only such exception granted to any Catholic mission in India. So Bishop's staff remained untouched.
The next crisis was the Great Famine of Bengal in 1943 which engulfed Krishnagar along with the rest of stricken Bengal. During the great famine, the Bishop and his devoted staff shared all they had with the people. He was chosen as Chairman of a voluntary Citizens' Food Committee. He begged by mail day and night from benefactors, and Kolkata in person, for war surplus food from Indian, British, Australian and U.S. Officers. In Bengal's time of great distress, while coping with the stream of refugees that poured into Krishnagar, the Bishop approached the Catholic Relief Services (CRS) in New York for more food supplies for the benefit of the people regardless of caste and creed. At that time CRS had no representative in India. Accordingly from 1944 to 1959 Father Bishop served as the representative for North East India, until a permanent office was opened in Kolkata. The Bishop and his staff worked with the people, kept vigil with them in their homes and almost died with them during that nightmarish year of the famine.
In 1947, the Bishop was to face still another crisis, the partition of India. This resulted in the sudden amputation of two-thirds of his diocese and more than a half of its population. His timely intervention helped to retain Krishnagar with Indian Union. There was a flood of refugees that poured across the frontier of the newly named Pakistan (now Bangladesh). In his fatherly love and concern for the threatened people, he gave them shelter on the basis of pure need, without reference to caste, creed or any other factor. His all embracing love, reconciling presence and timely help resulted in a diminution of the violence that marked other border areas.
When Mahatma Gandhi was assassinated in 1948, and fifteen thousand mourners of Krishnagar assembled on the bank of river Jalangi for a memorial service, Father Bishop was one of the three invited to speak along with a Hindu and Muslim. He begged the people to follow the example of the Father of the Nation, and to always work for the welfare of India.
In 1945 Father Bishop introduced the practice of Family Communion on New Year's Day. On 12th December, 1948 Father Bishop laid the foundation of Congregation of the Sisters of Mary Immaculate and made a valuable contribution towards a happier and healthier world for children and thereby for our nation too. The magnificent Cathedral of Krishnagar with its silvery dome and clock tower, built in 1950-1952, is indeed the master piece of all his buildings. Another point of attraction and wonder is the huge recreation hall by the side of the magnificent cathedral of Krishnagar. It was originally an airplane hanger, a gift from the Bishop's friends in Cincinnati, Ohio in 1957. In this hall on weekends and at other times the Bishop provided instruction through audio-visual aids for the overall growth of the children and adults. A few other developmental projects such as the new water system, schools, vocational training centers, construction of roads, dispensaries, and maternity hospitals are among the numerous initiatives of the Bishop.
After India became independent, prominent citizens of the town requested Father Bishop to enter his name for election as a Commissioner of the Municipality. The first election took place in 1952. Father Bishop succeeded in this, and was re-elected in 1955, 1959 and 1962 consecutively. At one of his meetings in 1965 because of the demands on his time for the work of Vatican Council II, Father Bishop begged his brother commissioners to excuse him from candidacy for re-election. During his term as commissioner, the Bishop financed a long-needed extension of the city's waterworks scheme. He also contributed generously towards the construction of the new Municipal building. Besides, the first telephone system was installed due to his efforts. In gratitude the local administration offered him the first number of the telephone system. But in his magnanimity the Bishop insisted that the District Magistrate should have the first number, followed by the Superintendent of Police, and the Maharani of Nadia. He accepted number four for himself. Apart from electing him to their Municipal Council, in 1950 he was appointed as an Official Visitor to the Krishnagar jail. This was a non political job, given by the Government of India to the most respected citizen of each community. Through his initiative a telephone system was installed in Krishnagar and the city's TB Clinic received an X-ray machine from the U.S. From 1960-1969 the Bishop was consultant of the Indian Red Cross Society of West Bengal. Pope Paul VI responded generously to his appeal in 1967 for help towards the creation of Krishnagar stadium. He also made handsome contributions to the Children's Park, Rama Krishna Pathaghar (City Library), and Sri. Aurobindo Bhavan (Student's Health Home).
He wrote a number of books for children and those have been translated into many languages. His catechism book, OUR CATHOLIC FAITH, is the best known of his publications and is of international repute. In 1969 he retired as bishop of Krishnagar. After retirement from the diocese, he continued his apostolate of the printed Word, updating his books, and distributing copies of the Holy Bible in
English and Bengali. He, as an ardent advocate of women's right was convinced that justice and peace cannot prevail until and unless women have an equal voice in legislative assemblies throughout the world. As a true and devoted son of the Mother Church, its interest, growth, and expansion were of primary importance to him. He was most faithful in attending the meetings of the Catholic Bishops' Conference of India. From 1969 to 1976 he was convener of the Assessment Committee of the CBCI.
On 23rd May, 1984, Father Bishop had a fall which resulted in a fracture of the left femur. For three and a quarter years he bore this condition, smilingly. On 28th August, 1987 he had serious spell of lung congestion. He rallied until 31st morning. While his confreres and sisters were singing and praying around him, he left the world in perfect peace at 9.35 am to his Father in Heaven; to be with him for millions and billions and trillions of years which was his cherished longing. In compliance with his desire and humble request, his mortal remains were laid to rest in the Cathedral crypt in the side chapel of Mary Help of Christians, which was built by him.
Bishop Morrow was an exceptionally gifted person. Those who lived with him were greatly impressed by his natural expression of genuine love, humility and cheerfulness. Everybody saw in him a benevolent father, eager to make others happy. Wherever he was, he created a loving family atmosphere conducive to all inclusive growth and development. He was very honest, large-hearted, compassionate, optimistic and foresighted, quick in grasping and prudent in action. He was a meticulous planner and a great administrator with a practical mind. He loved and cared for the poor, menial workers, and those who were held in low esteem in the society. He respected them as children of God, and instructed others to do the same. He was a loving father, a true shepherd and an example to his flock. Nothing could deter him from reaching out to his "prio sontangon," Even in adverse conditions such as heat, cold, bad roads, crossing the river on a makeshift raft, he managed to reach the distant villages.
We believe his great and loving soul is enjoying the bliss of heaven, singing praises of our most loving Father. Let us live and treasure our father's motto given to us as a precious legacy; "To love God and help others to love God!" May Father Bishop's gracious smile and encouraging words ever linger in our hearts, inspiring us to sow seeds of joy, love, peace and harmony among all peoples as children of God, our most loving and tender father..